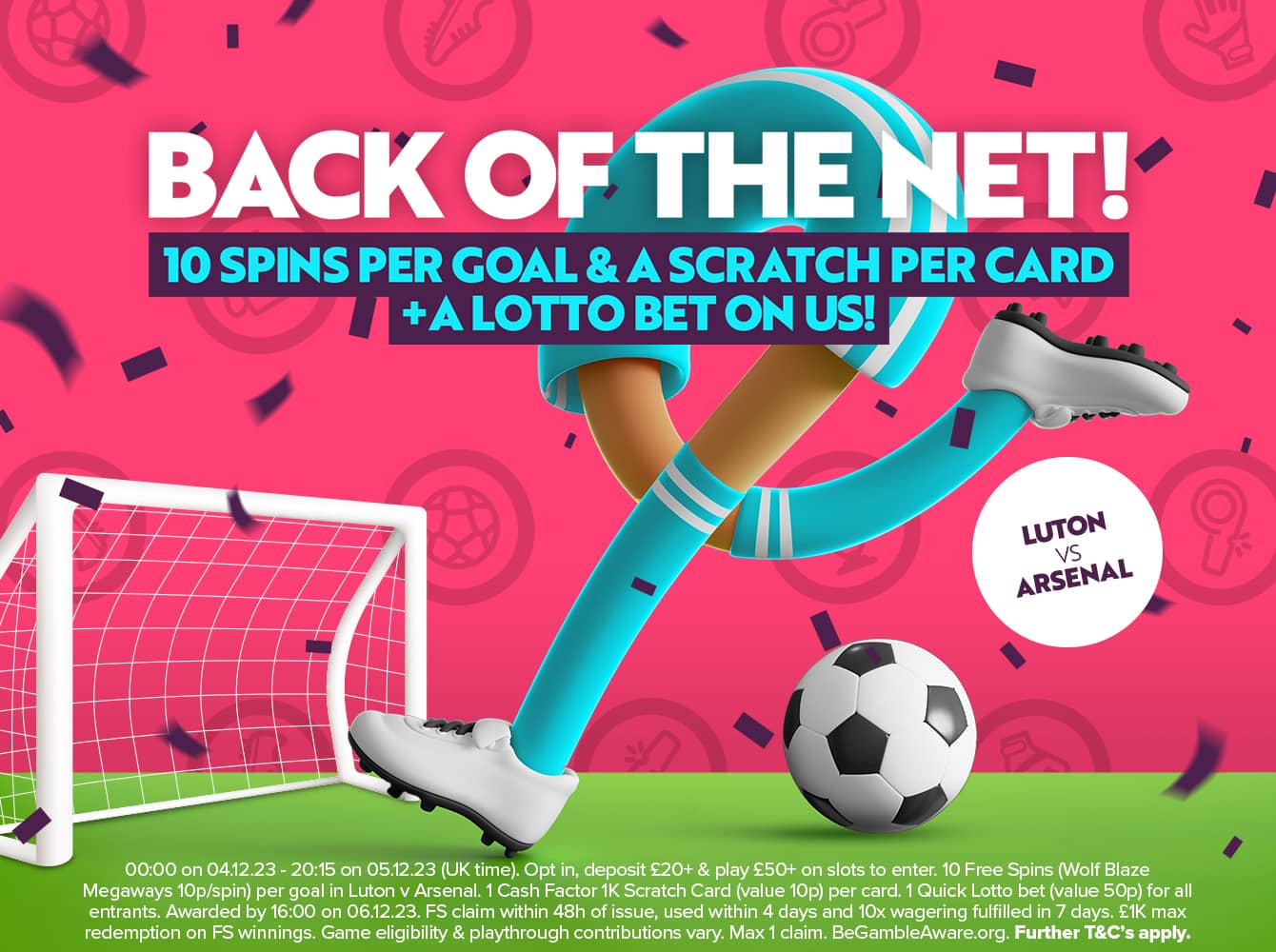 Back of the Net
Lottomart zips over to Bedfordshire for this weekend's Back of the Net as Luton FC takes on Arsenal at The Kenny! The Hatters will be wanting to keep their heads above the relegation zone, the Gunners to hold on to the top spot!
Whoever comes out on top, you'll net 1 Quick Lotto bet, and that's just the start! You'll also score 10 Free Spins per goal and 1 Scratch Card worth a potential £1,000 per card shown in the match!
Here's the play-by-play:
1 Opt in to the promotion
2 Deposit £20 or more and play £50 or more on any slot games before 20:15 (UK time) on Tuesday 5th December
3 Score 10 Free Spins with every goal + a Cash Factor 1K Scratch Card per card issued + 1 Quick Lotto Bet! (prizes awarded Wednesday 6th December)
There's a "goal lotto" prizes to be scored in this week's Back of the Net! 
FAQs
When is this promotion available?
From 00:00 UK Time, Monday 4th December until 20:15 UK Time, Tuesday 5th December, 2023.
Do I need to Opt in?
Yes, opt in is required before you make your qualifying deposit. You can do this via the promotional banner, you'll be directed to our cashier where you can confirm your "purchase" of the promotion.
How much do I need to deposit?
Make a single deposit of £20 or more to qualify for this promotion.
How much do I need to wager?
Wager £50 or more on any slot game, restricted games do not contribute towards qualification criteria.
Which games contribute towards this promotion?
Any slot games, except for those included in our restricted list. 
What prize(s) will I receive for participating?
10 Free Spins on Wolf Blaze Megaways for every goal scored.
1 Cash Factor 1K Scratch Card (value 10p) awarded for every card issued. 
1 Quick Lotto Bet (value 50p) 
When will my prize(s) be awarded?
Prizes are credited on the next day (Wednesday 6th December 2023) before 16:00 UK time, you'll receive confirmation of credit via email.
What if I don't receive my prize as expected?
Contact our friendly customer service team via our support portal.
How can I see other promotions I am eligible for?
You can see all the current promotions available to you in the My Promotion area.


Further Terms and Conditions apply.