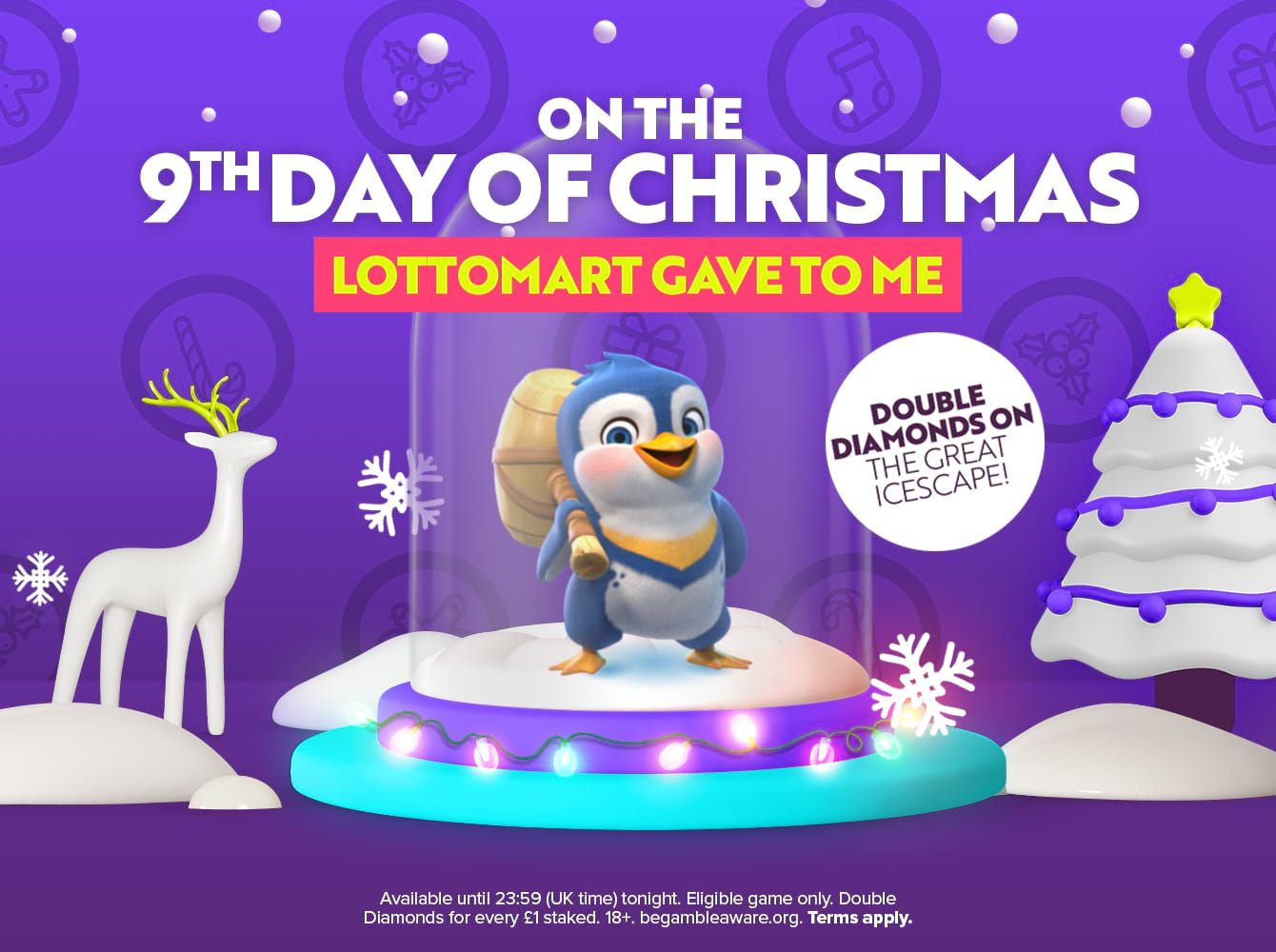 Game of the Day
Take our slot: The Great Icescape for a spin and get Double Diamonds for every £1 staked!
The Diamonds are part of our loyalty program that is designed to reward you for playing with Lottomart.
If you have any questions please contact us on support@lottomart.com or via Live Chat within the Lottomart app.
Terms and Conditions:
Last revised 14 March 2023 at 12:00 UK time
This Offer:
is only available from Monday 2 January at 00:01 UK time until Monday 2 January, 2022 at 23:59 UK time ("the Promotional Period");
can only be qualified for once per player;
is only available if you are of legal gambling age in your jurisdiction;
is subject to all Lottomart eligibility requirements for the use of our Services and the Site, as are set out in our General Terms and Conditions.
You may not participate in this Offer if you have previously been excluded from participating in any other offers or any gaming or wagering on the Site.
How to Claim
If you have satisfied the eligibility requirements above, you can claim this Offer as follows:
To participate simply play our selected slot: The Great Icescape at Lottomart Games with real-money prior to 23:59 on Monday 2 January, 2022 UK time ("the Promotional Period").
Only the selected slot is included in this Offer. Any other Game will be excluded.
For every £1 staked we will credit Double Diamonds.
Stakes resulting from discounted purchases (such as Bundles purchases) or bonus money do not contribute to the calculation of Diamonds accrued for this promotion.
There is no limit to the number of Diamonds that a player can accumulate during the promotional period.
The Diamonds will be credited instantaneously to the players account.
You can use Diamonds to pay for items you would like to purchase or to top-up your account cash balance. (Providing you have a sufficient diamond balance to cover the entire cost of the purchase, Diamonds will appear as a payment option).
Please gamble responsibly. If you require any assistance please contact us at support@lottomart.com or via the Live Chat within the Lottomart app.
Restrictions
Our offers are created to be of great value for recreational players; we want you to enjoy our Site and get the most out of your time with us. Unfortunately, not all players join for the same reason. Any breaches of these Offer Terms and/or our General Terms and Conditions which are intended to enhance your expected outcome shall be deemed to be "Prohibited Actions". The Prohibited Actions are any of the following:
you have opened multiple accounts and attempted to claim or successfully claim this offer more than once with any duplicate accounts;
this Offer has been claimed by more than one person in your household. If you have multiple people at the same address who want to claim this Offer, then you must contact support and we will consider your request;
you were not the intended recipient of this Offer and have manipulated clicks, links, communications, or some other aspect of our systems, affiliate systems, or advertising platforms in order to claim it;
you have misrepresented your account data to mislead us or circumvent any detection systems/checks we have in place;
you have adopted playing strategies that are deliberately designed to increase your chances such as using minimal risk wagering patterns;
you have participated in syndicated play by working with other customers to enhance the likely outcome of the adopted playing strategy;
you deposited using a payment method that was not in your own name;
you are using bots or other automated systems to create accounts, play games, circumvent our client interfaces or otherwise use our systems;
you were able to gain an advantage due to a system error, bug, or failure;
you noticed an error, bug, or failure that would cause this Offer to behave abnormally and did not notify us;
you used a proxy or VPN to mask your true location or IP.
In addition to the Prohibited Actions, you must not breach any other terms of these Offer Terms and/or our General Terms and Conditions (an "Infringement").
If we reasonably determine or suspect that you have been engaging in any of the Prohibited Actions or have committed an Infringement, then we will freeze your account and withhold your winnings pending further investigation. If our investigation concludes that you have engaged in any of the Prohibited Actions or have committed an Infringement, we will be entitled to take the following remedial actions:
(i) cancel any pending withdrawals you have that include any derived winnings;
(ii) cancel your remaining Bonus Balance and reverse/void any derived winnings in your Cash Balance;
(iii) void the any accrued Diamonds;
(iv) remove Diamond Status;
(v) void or cancel any pending bets including unused free spins and scratchcards;
(vii) remove your participation in this Offer or any other offer; and
(viii) return any remaining Cash Balance after all other adjustments above have been made
(collectively the "Remedial Actions"). We will notify you when we take any of the Remedial Actions.
Other
We may request such documentation, information, or evidence as we may reasonably require to determine if you have committed an Infringement and/or engaged in any Prohibited Actions.
We will not amend this Offer or these Offer Terms unless (i) we are required to do so in order to comply with any legal or regulatory change or (ii) to address or correct any significant issues relating to the Offer, such as software errors or any manifest error in the Offer itself. Any such change will not adversely impact you if you have already started wagering under this Offer.
In the event that your deposit is necessary to qualify and participate in this Offer is cancelled, refused, or charged back by a payment processor, we shall be entitled to perform the Remedial Actions and will notify you of this.
In addition to these Offer Terms, your use of our Services and your participation in any gaming or wagering (including this Offer) is governed by our General Terms and Conditions.