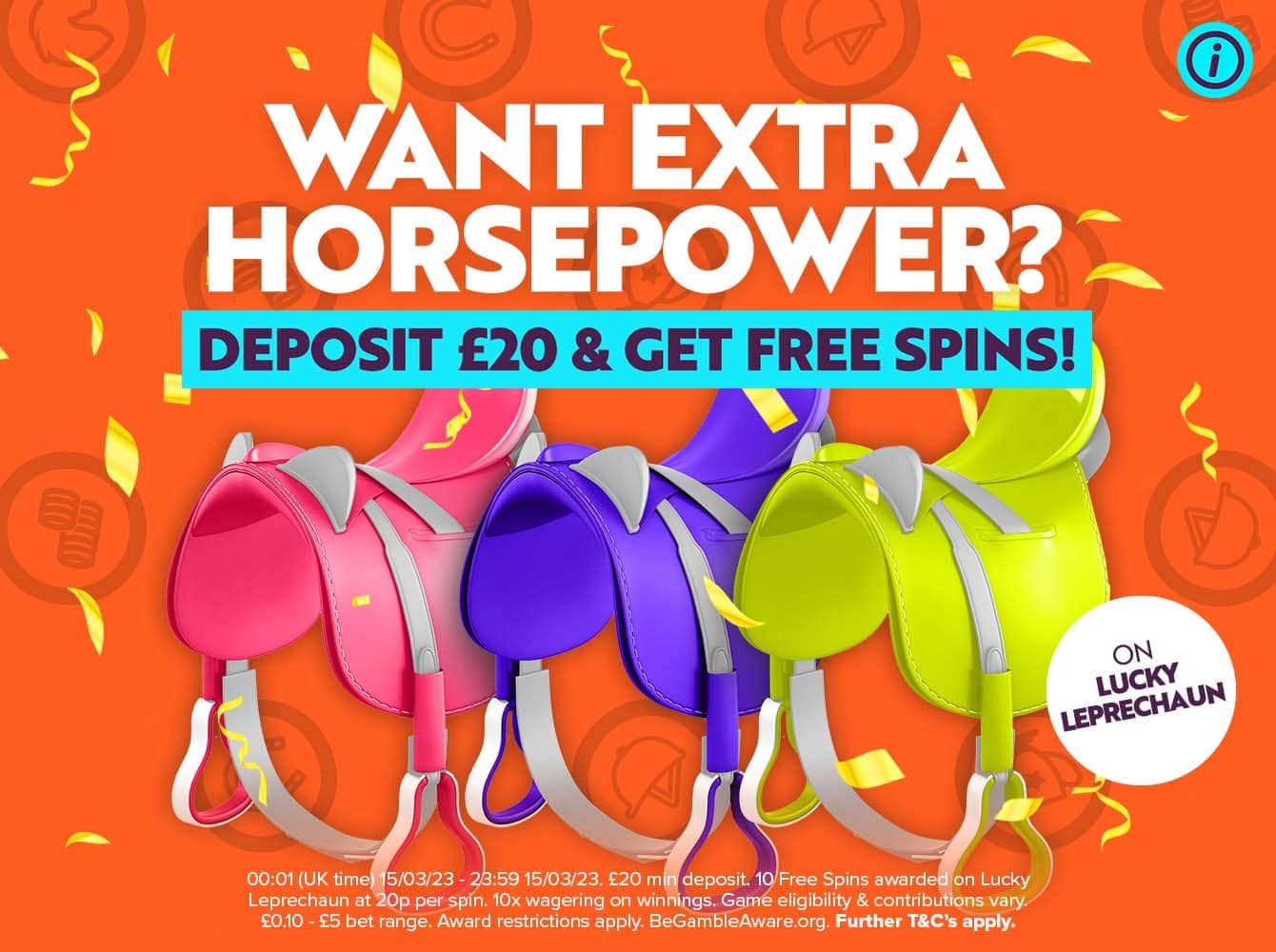 Cheltenham Festival Dep and Get 
Welcome to our Cheltenham Festival Dep and Get promotion, where we're giving you the chance to win 10 Free Spins on Lucky Leprechaun.
Saddle up and get ready to jump over the hurdles towards a Free Spin prize! 
How to take part:
❶ Deposit £20 or more in a single transaction.
❷ Get 10 Free Spins added to your cart.
❸ Play your spins on the evergreen Lucky Leprechaun slot!
FAQs
When is this promotion available?
From 00:00 UK Time, Wednesday 15th March until 23:59 UK Time, Wednesday 15th March, 2023.
Do I need to Opt In?
Once you select the bonus at the time of making your qualifying deposit, you will automatically be opted into this promotion.
How much do I need to deposit?
Please make a single deposit of £20 or more to qualify for this promotion.
What is the wagering requirement on the Free Spins?
There is a mandatory playthrough requirement of 10x before you are able to redeem your winnings to cash.
What prize(s) will I receive for participating?
You will receive 10 Free Spins on Lucky Leprechaun.
How long are the Free Spins valid for? 
They are valid for a period of 7 days after they have been first activated. If you are unsure, you can always check this by navigating to the 'Bonus' area to see if the bonus is 'Active'.
When will my prize(s) be awarded?
Prizes are credited automatically once you make the qualifying deposit on Wednesday 15th March, 2023.
What if I don't receive my prize as expected?
Contact our friendly customer service team via our support portal.
How can I see other promotions I am eligible for?
You can see all the current promotions available to you in the My Promotion area.


Full terms and conditions for this promotion are visible here.